EFG London Jazz Festival
November 15 - 26, 2018
Flight to London, England, United Kingdom
& DoubeTree by Hilton - West End
Day 1 Thursday, November 15, 2018
<<<PREVIOUS PAGE &nbsp &nbsp NEXT PAGE>>>

Click on each photo below for a slide show.
United Airlines Flight To London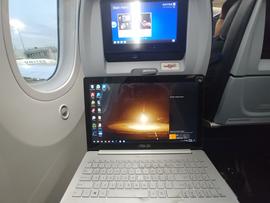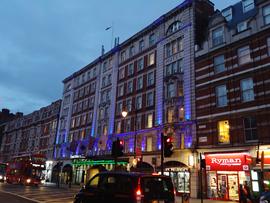 This is probably the nicest hotel we've ever stayed at in London and this is our 5th visit to London. The reception area was quite large though I don't remember seeing any seats in the reception area at all. But right next to the reception area was the hotel bar which has quite a few sofas and comfortable chairs. Also next to the reception area was the hotel restaurant. It appears the full restaurant menu as well as the full bar menu were available in both the bar and the restaurant. The bar was open until at least 10 PM most nights and until after 11 PM on Friday and Saturday evening. Room service had an good menu available all day and a more limited menu available 24 hours.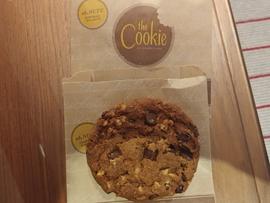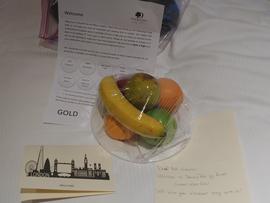 Since we are Hilton Honors Gold Level Members, they gave us 2 free bottles of water plus 2 free chocolate cookies when we checked in. Whenever we had the room made up they would leave an additional 2 bottles of water for us. Shortly after we settled into our room we got a knock on the door. We were wondering what it could be as we had not requested anything. It was a staff member of the hotel bringing us a free bowl of fruit along with two hand written thank you notes for being Hilton customers, one note for each of us!
A number of hotels in London seem to now be providing their guests with a free smart phone, called a handy phone to use during their stay. The phone allows for free local and even free international calling! It also provides you with a local phone number so that local frineds or relatives can call you without placing an international call. It is also good to use when making restaurant reservations. It is a complete smart phone with Google Maps, Google Chrome and many other useful Apps already installed. You can log into your own personal Gmail or Google Account on the smartphone and it will erase all of your personal data when you check out of the hotel. We used this "handy phone" extensively on this trip as it usually had a better cell connection throughout London than my own cell phone and it was easier and cheaper when dialing local London phone numbers. This "handy phone" was a great convenience during our stay and I hope we find it at other hotels during our future travels.
Our Hotel Room
Sorry about the mess. I forgot to take photos before we unpacked everything. This may be the largest hotel room we have ever had in London. Hotel rooms in London tend to run small unless you are willing to spend a lot on a room. It is also rare that you will find rooms with beds larger than double size beds. In London they don't seem to have the concept of putting a king or two queen size beds in a room. Actually, rooms with more than one bed in them are pretty rare. This room did have a safe, a refrigerator, and an electric tea kettle. Instant coffee and milk were provided which is what we prefer to drink. We just boiled the water in the tea kettle for the instant coffee.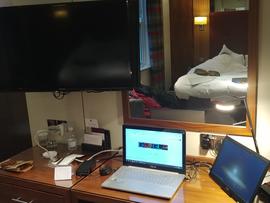 There was plenty of room on the desk in our hotel room for me to set up my large notebook computer with its double screens. As is common with many UK and European hotels, there were not many electrical outlets in the room. There was only one at the desk, but I always bring along an extension cord with multiple outlets to fix that problem. Fortunately almost all of my electronics can operate on any voltage from 110v to 240v so all I needed was a plug adapter and not a step down transformer from 220v to 110v. The only thing we brought that could not operate on the higher voltage was our portable waterpik. That was the only item that I needed to use with my step down transformer.
Our Hotel Room Bathroom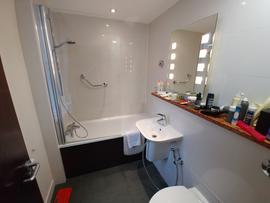 An Interesting Toilet Concept
This seemed to be an interesting toilet innovation to me. It is a high pressure sprayer that rapidly and conveniently cleans out the toilet bowl. It works much better than a toilet brush. Though, you will notice there are some stains in the toilet bowl. London has very hard water with a high concentration of calcium. Those would be hard to get out with any amount of scrubbing. Some harsher chemical cleaners would be needed to get rid of those stains. But this sprayer works great when needed after any use of the toilet. At first I thought it might be for washing your hair, but on second thought that didn't make any sense. The high pressure would get the water all over the place. Besides, the shower with a removable hand sprayer is right next to the sink. So why would anyone use the sink to wash their hair? I've never seen this in any other hotel in Britain, or even in the United States for that matter.
The View From Our Hotel Room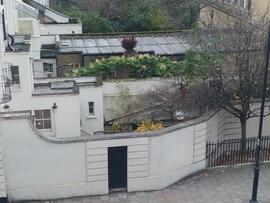 Our room was almost right above the main entrance so we had a view of the busy main street from our window. My wife and I don't mind the noise from the street so it provided a good view of some of the city activity. This was definitely better than some of our views from previous hotel stays where all we could see out our window was a wall or windows of other hotel rooms.
Bar92 - The Hotel Bar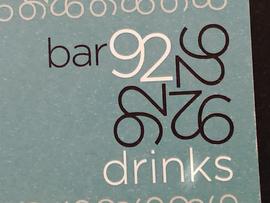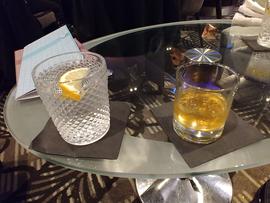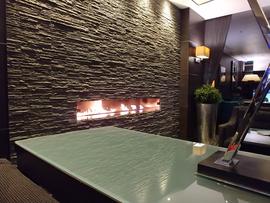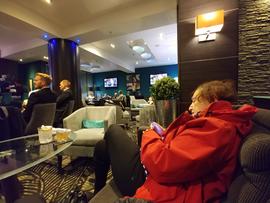 The hotel bar was cozy with lots of comfortable seating. They didn't have any of my favorite Scotch, those from the island of Islay. However, they did have Talisker 10 Year Scotch Whisky which is also smokey and peaty similar to the Islay Scotches that we like.
Hotel Bar Food & Wine Menu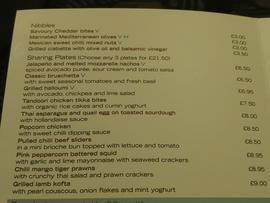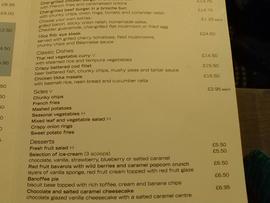 British vs. American Language & Customs
When you visit Britain you will find there are some common phrases that are different between the British English Language and the American English Language. Below are a few of them with their translations:
| British | American |
| --- | --- |
| Give Way | Yield |
| Lift | Elevator |
| Motorway | Highway |
| Take Away | Take Out (Food) |
| To Let | For Rent |
| Way Out | Exit |
You are probably aware that the British drive on the left side of the road and their vehicles are "right hand drive" where the driver sits in the right hand front seat instead of the left. In most of the world people drive on the right side of the road and use "left hand drive" vehicles like we do in America. This custom of "keeping left" only applies to vehicles. It does not apply to pedestrians. The British don't seem to have any custom of whether you should walk on the left or on the right when on a sidewalk, on a stairway, or in the pedestrian tunnels connecting various Tube lines in the London Underground. In the tunnels there are sometimes signs that say "Keep Left" and sometimes say "Keep Right". There is no consistency.

We found this lack of a custom to walk on the left or on the right quite annoying. When walking people would come toward you from both sides. People who walked faster and would overtake you, would do so on both sides. I know there are no rules in America either, but I think we just carry over the rules of driving on the right and have sort of an unwritten custom of tending to walk on the right. When approaching people coming the other way, we tend to pass them on the right. When overtaking someone walking slower than you, we tend to pass them on the left, just like when driving. But in London where there is no walking side custom, there are many frequent near collisions. When two people approach each other they have no idea which side they are going to pass each other and almost end up in a dance trying to figure out which side to pass the other person. When I hear people approaching from behind who are walking faster than me, I tend to move to the right to let them by. But more often than not they would try to squeeze by on my left. I can't help but suspect this is caused by the British driving on the left and thus not having a subconscious "keep right" mentality that carries over to walking.

For those of you that are as old as me, you may remember a time long ago that when you pushed the pedestrian crossing button at a traffic intersection, all of the traffic lights would change to display the red and yellow lights simultaneously. When those simultaneous lights went on in all directions, that is when all of the traffic would stop and it was safe to cross the street. This is how I was taught as a child to know when it was safe to cross the street. I think they eliminated the simultaneous red and yellow lights for pedestrian crossing years ago. There is just too much traffic today to stop all traffic in all directions when a pedestrain wants to cross. In Britain when you see simultaneous red and yellow lights, it has a totally different meaning. If you step into the street when you see simultaneous red and yellow lights, you'll probably get yourself killed! In Britain the simultaneous red and yellow lights mean that the light is about to turn green to go! So if you step into the street when the lights turn simultaneous red and yellow, you'll probably get run over.

Another British custom that I found odd is the policy at restaurant buffets, especially Indian buffets. If you go back for a second or third helping, bring your dirty plate back to the buffet table to add more food to it. In America this is usually a violation of health regulations and is not allowed. American restaurants and local health ordinances always requires you to get a new clean plate when you return to the buffet for more. In England it is not polite and is discourage to not re-use your dirty plate when you return to the buffet for more food.

Click on each photo above for a slide show.

<<<PREVIOUS PAGE &nbsp &nbsp NEXT PAGE>>>