EFG London Jazz Festival
November 15 - 26, 2018
Opening Gala & LJF Sampler
Day 2 Friday, November 16, 2018
<<<PREVIOUS PAGE &nbsp &nbsp NEXT PAGE>>>

My wife and I are big jazz fans, especially of saxophone performances. In order to help others find jazz and blues performances, at least in the regions that we frequent or visit, I set up the JazzDens.com website. It mostly covers where we live in the Vancouver, Washington / Portland, Oregon, plus where our vacation house is located in the Orange County / Los Angeles, California area. There is also a sizeable listing of jazz venues for London, England, which we have been visiting at least a couple of times each year recently.

London has an amazing number of jazz venues, many of which feature jazz almost every night of the week even when there is no jazz festival in town. I've personally discovered more than 35 jazz venues in London! That beats any other region of the world that we frequent. London tends to attract widely known jazz talent from all over the world all year long, especially from America. That is unlike jazz venues in the other cities that we frequent where it is mostly little local known talent that performs. That doesn't mean that these other unknown bands aren't good. Some of them could hold their own with the best of world talent. It is just that many of them have no been discovered or have not attempted to market themselves beyond their own local neighborhoods.

We came to this EFG Jazz Festival in London to have a chance to listen to some of the top jazz bands and performers that we rarely get to see in they other cities that we frequent. We definitely got an opportunity to do that at this festival! Personally my wife and I enjoy small intimate venues: bars, lounges, and restaurants (or jazz dens, as I like to call them) over big impersonal concert halls. The EFG Jazz Festival had plenty of both types of venues. For economic reasons it is often difficult to attract top talent unless the performance is in a large venue where the sale of hundreds of tickets is possible. However, at events like the EFG Jazz Festival that has attracted top talent into town, you might one day see a great performent in a huge concert hall and the next day will make a surprise guest appearance at one of the smaller intimate jazz venues!

Overall this event was well worth attending. Our only regret was that it isn't scheduled at a time of year when the weather is a bit warmer in London. It temperature was mostly in the 40's (F) for the entire time we were in London, though we were lucky that it didn't rain very much. As far as cost goes there was no registration fee to attend the jazz festival but you did have to buy tickets to each individual performance. A number of performances were free, especially those during the daytime. Each individual performance ranged in cost from about $6 to $40 averaging about $20 per ticket. Normally high hotel rates in London were a bit down being the off-season where there aren't as many tourists as summer. There are hotel rooms available for less than $100 per evening. The best and cheapest way to get around London is the London Underground (Tube) (about $3 per trip) and the busses (about $2 per trip). We used our points on United Airlines to fly round-trip to London so didn't have to pay any airfare, but there are usually low cost round-trip flights available to London. Norwegian Air Shuttle often has fares of less than $400 per person round-trip from many U.S. cities.

Click on each photo below for a slide show.
Jazz Festival
Program Book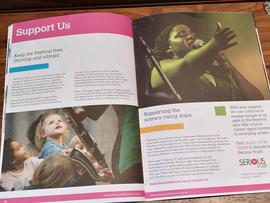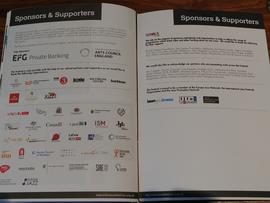 Jazz Events Schedule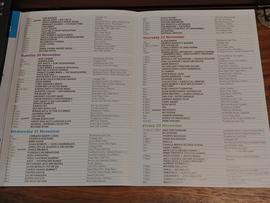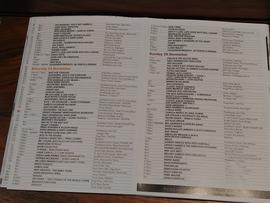 On some evenings there were more than 20 simultaneous venues!
Jazz Voice
Festival Opening Gala
Southbank Centre / Royal Festival Hall
Belvedere Road, London SE1 8XX, England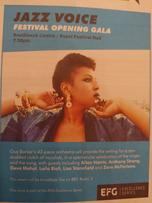 Guy Barker's 42-piece orchestra will provide the setting for a star-studded clutch of vocalists, in a spectacular celebration of the singer and the song, with guests including Allan Harris, Anthony Strong, Deva Mahal, Laila Biali, Lisa Stansfield and Zara McFarlane. This event will be broadcast live on BBC Radio 3.
The Archduke
153 Concert Hall Approach, Lambeth, London SE1 8XU
Jazz Every Day!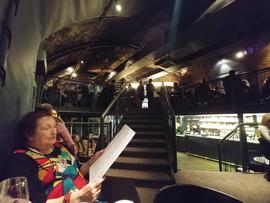 After the Opening Gala we stopped into The Archduke for a bite to eat. They feature live jazz almost every evening. It is located right across from the concert halls near Waterloo Station.
Festival Sampler
Kings Place
90 York Way, London N1 9AG, England

Amir ElSaffar's Rivers of Sound (UK Premiere)



Camilla George Qartet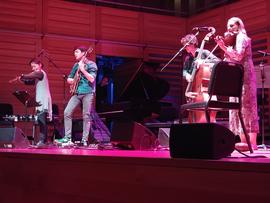 Alice Zawadzki, Hyelim Kim, Rob Luft & Misha Mullov-Abbado Quartet

Click on each photo above for a slide show.

<<<PREVIOUS PAGE &nbsp &nbsp NEXT PAGE>>>