EFG London Jazz Festival
November 15 - 26, 2018
Mark Kavuma @ PizzaExpress, Soho
Day 8 Thursday, November 22, 2018
(Thanksgiving Day in the U.S.)
<<<PREVIOUS PAGE &nbsp &nbsp NEXT PAGE>>>

Click on each photo below for a slide show.
Taking The Train To Surbiton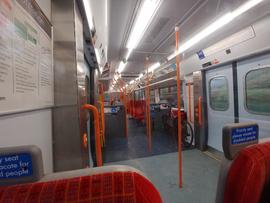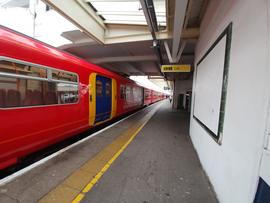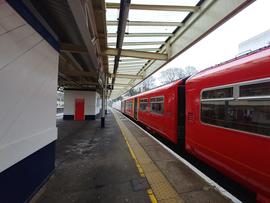 South Western Railway from Waterloo to Surbiton

In the morning, Barbara and I took the train from Waterloo to Surbiton to visit her friend, Ellen. Surbiton is the last stop on this line where Transportation For London Oyster Cards are valid. Oyster Cards are valid for pretty much every method of public transportation around London including on bus, Tube, tram, DLR, London Overground, TfL Rail, Emirates Air Line and River Bus. They are also good on most National Rail services in London and some outside London. Generally the Oyster Card is good within about 15 miles of central London. Beyond that, a ticket or some other sort of pass would be needed. Surbiton was the last stop on this line where the Oyster Card is valid.

When visiting London, I'd strongly recommend that you purchase an Oyster Card and use all the various means of public transportation to get around. London does have taxis, Uber, and other ride share services as well as many car rental providers, but the traffic is so heavy that it often takes a very long time to get to your destination. We generally use the London Underground, or Tube, to get just about anywhere in London. It is extremely fast. The headway between trains is usually only 3 or 4 minutes all day. Even in the evening you'll rarely wait more than 10 minutes for an underground train on any line.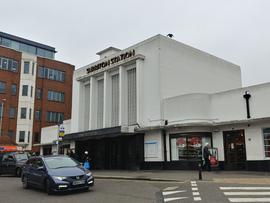 Above Left: Surbiton Train Station
Above Right: A Fuller's Tavern, The Surbiton Flyer, at the station.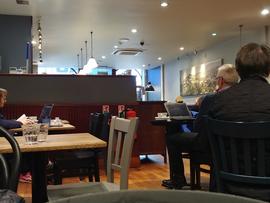 We met with Barbara's friend, Ellen, at a Cafe Nero across the street from the station. There are Cafe Nero coffee shops all over London, and probably all over Britain, just like we have Starbuck's all over the United States. Actually, there are also Starbuck's all over London and the rest of Britain too! Like Starbuck's they had really great free WiFi. Click Here to view photos of the people we visited in England as well as photos of Barbara and myself.
Thanksgiving Celebration in London
England does not observe the Thanksgiving Day Holiday, but there are so many ex-Pats and tourists from America in London at this time of year that a number of restaurants in London do offer a Thanksgiving Day Feast. Originally we tried to make a reservation at The Mayflower Pub which was offering a Thanksgiving Day menu both in the afternoon and evening. We thought it would be neat to have Thanksgiving at the Mayflower. I guess this connection wasn't lost on the restaurant and they picked up on marketing this event. But it is a small place and they were already totally booked all day! Our next choice was to make a reservation at Bodean's BBQ Smoke House which also offered a Thanksgiving Celebration Menu. So, that is where we made our reservations for 2pm on Thanksgiving Day.
Unfortunately, my wife, Barbara, was feeling very ill the morning of Thanksgiving. She is rarely ever sick, but this was one of those rare days. She would have skipped going to see her friend in Surbiton, but this was the last time she'd be able to visit on this trip. And thus, Barbara made a real troopers effort to get down to Surbiton to visit her. But after that we thought it would be best if she just rested in bed for the remainder of the day. Thus we cancelled our restaurant reservations for Thanksgiving dinner.
Incognito
Hideaway Jazz Club
2 Empire Mews, Stanthorpe Road, London, England SW16 2BF
Jean-Paul 'Bluey' Maunick's jazz-funk Incognito embrace a semi-acoustic sound, whilst keeping all the groove. The full band take their iconic back catalogue back to its musical roots.
We had tickets to the above SOLD OUT show but decided to skip it so that Barbara could rest and get over whatever had made her ill. By 10 PM in the evening Barbara was feeling much better so we decided to go see the midnight jazz performance at PizzaExpress in Soho shown below. It was probably a good idea as neither of us had yet to eat anything all day.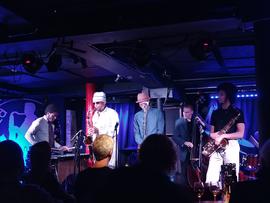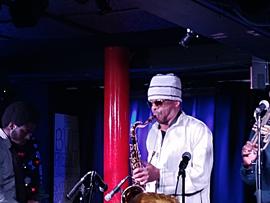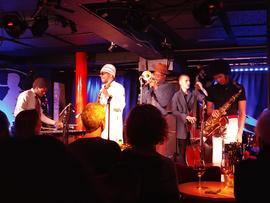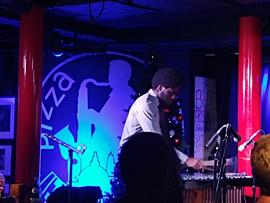 Born and partly raised in Uganda, Mark Kavuma is a key young trumpet player on the British jazz scene. He leads his own band, as well as playing with Jean Toussaint's Young Lions, Jazz Jamaica and Nu Civilization Orchestra. Mark is a driving force of the dynamic, young London jazz scene. His debut album, 'Kavuma' (Ubuntu Music), is a London - New York collective of exceptional artists who deliver soulful jazz.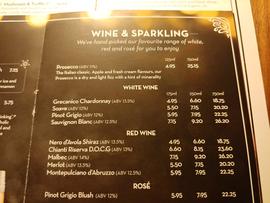 The Wine List at PizzaExpress.



PizzaExpress is a chain throughout Greater London. Most are restaurants that just serve pizza, pasta, and salads. However, a number of them also offer Live Jazz every evening of the week and sometimes in the afternoon also. Click Here to see "What's On" at each PizzaExpress Live Jazz venue. At every PizzaExpress that I've been too, the live jazz has not been in the main restaurant but instead is in the converted basement of the restaurant. The same food is available in the jazz venue until the restaurant upstairs closes, which is usually at midnight. Wine, beer, spirits and soft drinks continue to be available from the bar until the end of the live performance which is often not until 1 or 2 in the morning! All of the PizzaExpress locations seem to have the same food and drinks menu, including the same Wine List as shown above.

One of the menu selections is a pizza with pulled turkey, so we at least did get to have some turkey on Thanksgiving Day!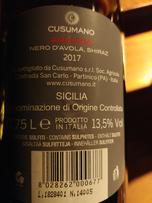 The Wine We Drank. We thought it was pretty good for a Shiraz from Italy.

<<<PREVIOUS PAGE &nbsp &nbsp NEXT PAGE>>>

Click on each photo above for a slide show.