PDXjazz Festival
February 21 - March 3, 2019
Day 9 Friday March 1, 2019
<<<PREVIOUS PAGE &nbsp &nbsp NEXT PAGE>>>
Revolution Hall, 1300 SE Stark Street,
Portland, OR 97214 United States
Quoted From: https://pdxjazz.com/event/eldon-t-jones-n-touch/
As part of a musical family, Eldon "T" Jones developed a love for music at a young age and began playing in his church. He studied music at Thomas Jefferson Performing Arts High School in Portland, Oregon, where he won awards in both classical and jazz. From there, he advanced his education at Mt. Hood Community College, the pinnacle of jazz education in the Pacific Northwest. Saxophonists Grover Washington, Jr., Wilton Felder of the Crusaders, and Kirk Whalum also inspired his playing.
In 1995, Eldon started N Touch, which grew to a septet by 1998. In 2001, they released N'Touch which still rings true with fans today. The title track of the album was included on the jazz compilation In Celebration of Life and was ranked as a top 10 jazz track by Nu Flava Magazine who proclaimed that the album "empties the heart of its cares!" In 2015, Eldon contributed the song "Love Will Find a Way" to the Bespeak Love collaboration, which reached the Top 10 UK Soul Charts. In 2018, the sold out N Touch Reunion Show brought back the original band members and featured musicians from every era of N Touch.
Eldon values his role as a mentor and has provided a training ground for outstanding musicians including his brother Anthony Jones (Pink Martini), Chris Turner (Prince), Darius Fentress (Fred Hammond), and pianist Patrick Cooper. N Touch's current lineup consists of emergent artist Zack Poelwijk who grounds the group in gospel on keyboard, savvy vet Torry Ward who brings the funk on bass guitar, Jonathan Schuler on guitar, and Charles Tellis on drums.
Eldon continues to play in church and can be found performing at community events such as the Oregon Symphony's Gospel Christmas, Good N the Hood, the plays Who I Am Celebrating Me and Vanport the Musical, events supporting Stomp Out Abuse, Self Enhancement, Inc. and Black Parent Initiative, and World Arts Foundation, Inc.'s annual MLK Tribute where in 2017 Jones received a lifetime achievement award recognizing his music as a blessing to the community.
Eldon "T" Jones & N Touch have appeared on the nationally televised BET Jazz with saxophonist and host Mike Phillips. Eldon has performed with Grammy award-winning singer Yolanda Adams, legendary jazz bassist Leroy Vinegar, the "Godfather of Portland Jazz" Mel Brown, singer/songwriter Morris Chapman, trumpeter Farnell Newston, saxophonists Najee, Darren Rahn, and David Pack from Ambrosia, and pianists Ben Tankard and Darrell Grant. He has opened for Earth, Wind, & Fire and Tower of Power. Eldon has recorded with guitarist Walter Finch, Congregation of Antrax Records, Ray Tellis of Raada Music, and saxophonist Kevin Moore. He has performed at Jazz Alley (Seattle), Yoshi's (Oakland), and Jimmy Mak's, the Alberta Rose Theatre, and Arlene Schnitzer Concert Hall (Portland). He has performed at the Waterfront Blues Festival, Mt. Hood Jazz Festival, Portland Rose Festival, (Oregon) Vancouver Wine and Jazz Festival, Festival Sundiata, and the Jazz and Oyster Festival (Washington).
eldontjones.com
Gerald Veasley's musical odyssey has taken him to the top of the contemporary music world as a bassist, bandleader, composer, producer, educator, and curator. His performance as a six-string bassist has been top shelf, as his extensive body of work attests. Veasley has recorded or performed with many of the world's top artists in Jazz, R&B and Gospel: Kirk Whalum, Will Downing, Chuck Loeb, Maysa, Nnenna Freelon, Special EFX, Pieces of a Dream, McCoy Tyner, The Jaco Pastorius Big Band ,Gerald Levert, Teddy Pendergrass, Philip Bailey, the Dixie Hummingbirds, John Blake, Odean Pope and Pat Martino.Veasley's life as a creative professional is clearly multifaceted. Indeed, he fulfills various roles. Musician. Educator. Curator. Yet he is driven by a singular purpose: to share his joy of music with the world; music without boundaries.
facebook.com/GeraldVeasley
Born in 1979, jazz saxophonist Marcus Strickland is a charter member of the 21st century jazz vanguard. Similar to the torrent of artists that appeared on the jazz landscape in the early '80s to pull jazz out of the grasp of the Fusion Era, Strickland, his identical twin brother E.J. Strickland (drummer), and artists such as Jeremy Pelt and Robert Glasper breathed new life into jazz early in the new millennium. During a five-year stint with venerable drummer Roy Haynes, Strickland released two albums on the Fresh Sound New Talent label. At Last was released in 2001, followed by Brotherhood in 2003. Both albums featured precocious peers (Pelt, Glasper, bassist Brandon Owens) playing a lyrical, fiery, contemporary jazz. For the next three years, Strickland toured with artists such as Jeff "Tain" Watts and Haynes and Dave Douglass, while also holding down dates with his own band. In 2006, he independently released Twi-Life, an adventurous double-album on his own label, Strick Muzik. The album received much critical praise and proclaimed him "Best New Artist" in the JazzTimes Readers' Poll. In 2007, the Twi-Life Group released a live album entitled Open Reel Deck on Strick Muzik. The album featured Lage Lund on guitar, Carlos Henderson on electric bass, and E.J. Strickland on drums, as well as trumpeter Keyon Harrold, the hip-hop-tinged poetry of Malachi, and one track with pianist Jon Cowherd. The album displayed the curious side of Strickland's compositional skills through funk, hip-hop, Afro-beat, rock, ska, and jungle grooves. Strickland was voted "Rising Star, Soprano Saxophone" in Downbeat Magazine's 2008 Critic's Poll. He released two albums in 2009 - Of Song on the Criss Cross label and Idiosyncrasies on his label under the new name of SMK. Of Song, with brother E.J., Ben Williams, and David Bryant was a more straight-ahead set, whereas Idiosyncracies featured Strickland's increasingly daring compositions. Throughout his career, Strickland has worked with a variety of artists, including Mos Def, Nicholas Payton, Christian McBride, and the Charles Tolliver Big Band, Tom Harrell, among others.
marcusstrickland.com
Delvon Lamarr Organ Trio was formed in the Spring of 2015 by Amy Novo, Delvon Lamarr's wife and band manager. She told her husband she would take over his music career and all he had to do was find the musicians, create and play music. They originally started with another guitarist and drummer. Within a year they brought on infamous Jimmy James. Immediately the chemistry between the three of them was undeniable. With Delvon's soulful organ sound, and Jimmy's explosive guitar sound and the former drummer's perfect pocket drumming, they had the perfect blend of Soul, Jazz, Rhythm & Blues and Rock & Roll.
They started with a weekly Residency at The Royal Room in Seattle for the first year then self released their first album, playing short tours from Idaho, Spokane, Seattle, Bellingham, Olympia, Portland, Reno, California and festivals including an upcoming European tour. Shortly after signing with Colemine Records they re-released their album on a 45, LP, cassette, CD and digitally. Several months later they signed with The Kurland Agency, a well known booking agency out of Boston. The band has since gone from a local Seattle band to a national and international household name. The love, passion and devotion Amy Novo, Colemine Records and The Kurland Agency has for their music creates the perfect power team. In the Fall of 2018, the band welcomed their new drummer, Doug Octa Port, who brings a brilliant new take on a familiar sound.
personnel
Eldon "T" Jones / saxophone
Gerald Veasley / electric bass
Marcus Strickland / tenor saxophone
Anthony Jones / drums
Zack Poelwijk / keyboards
Torry Ward / bass guitar
Jonathan Schuler / guitar
Linda Tellis-Kennedy / backup vocals
"Ruby Blue" Jones / backup vocals
Darius Fentress / hand percussion
Chris Turner / keyboards
Delvon Lamarr / Hammond B3
Jimmy James / guitar
Doug Octa Port / drums
Click on each photo below for a slide show.
Some of the below photos provided by Linda Lopez.


Dinner Before The Show:
Wildfin American Grill
777 Waterfront Way, Suite 101, Vancouver, WA 98660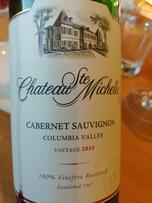 At The Waterfront, Vancouver, Washington



Linda Lopez & Barbara Cepinko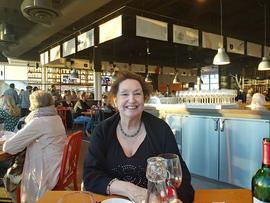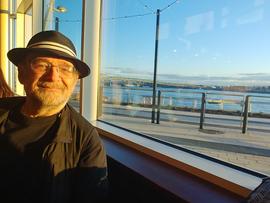 Barbara Cepinko & Stephen Grande
Eldon "T" Jones & N Touch
Tribute To Grover Washington Jr.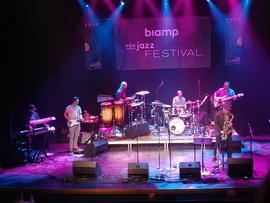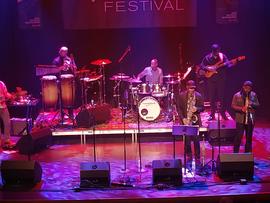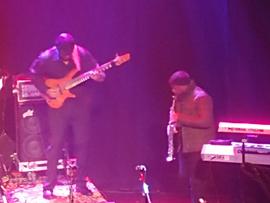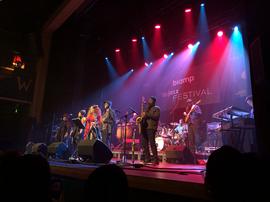 Click on each photo above for a slide show.

<<<PREVIOUS PAGE &nbsp &nbsp NEXT PAGE>>>