PDXjazz Festival
February 21 - March 3, 2019
Day 10 Saturday March 2, 2019
<<<PREVIOUS PAGE &nbsp &nbsp NEXT PAGE>>>
Revolution Hall
1300 SE Stark St, Portland, OR 97214
7:30pm
Quoted From: https://pdxjazz.com/event/wide-angles/
The Grammy Award winning-album performed live featuring guest soloists:
Eli Degibri, Maria Grand, Chris Potter & Marcus Strickland
Mike was, after Coltrane, the most influential saxophonist of the late 20th century. His presence is still being felt today 12 years after his passing on January 13 2007. Tonight you will hear 4 saxophonists each having their own voice, but Mike is in all of them. As far as playing with him all those years, it was always a wonderful experience, we learned a lot from each other. We were constantly bouncing ideas and riffs off one another. In fact, the only problem in our musical relationship was me trying to solo right after the great Michael Brecker who could rock the house like no one else! - Randy Brecker
2019 will mark what would have been Michael Brecker's 70th birthday. The late saxophonist is among the most inspiring and often imitated saxophonists in the last three decades of jazz, and one who often investigated and revitalized the music's legacy in a fresh manner that propelled it into a constant state of expansion.
Wide Angles, conceived in 2002 in support of a U.K. Arts Council tour, served as the catalyst for Brecker's most ambitious and emotionally-charged recording the following year. The album resulted in a large ensemble of brass, woodwind, and string players, and was recorded as an extended ten-song saxophone concerto, orchestrated and arranged by Gil Goldstein. Until then, Brecker had never led an orchestra and had rarely framed his sound with a large ensemble. In its weight, authority, daring, and panoramic scope, it also makes clear that Brecker was one of the foremost composers in jazz of his generation.
Collaborating with Goldstein, Brecker enthused, "Gil created the arrangements underneath the solos and expanded the orchestrations, and he was very meticulous about staying loyal to my original ideas and re-orchestrating them. He also beautifully arranged and orchestrated three of the tunes from the ground up."
Wide Angles, under the musical direction of Gil Goldstein, will be performed live for the first time in Portland as part of the Philly Special festival program on closing weekend. John Nastos has assembled the brass ensemble and string quartet for this For Portland Only special occasion. Guest saxophonists include Eli Degibri, Maria Grand and Marcus Strickland. Degibri, a native of Tel Aviv who serves as the Artistic Director for the Red Sea Festival where Brecker often performed, recently initiated the first International Saxophone Competition in Brecker's name.
personnel
Gil Goldstein / music director, keyboard
Eli Degibri / tenor saxophone
Marcus Strickland / tenor saxophone
Maria Grand / tenor saxophone
Chris Potter / tenor saxophone
Steve Rodby / bass
Michael Raynor / drums
John Savage / flute
Alan Juza / oboe, English horn
John Nastos / bass clarinet
Dick Titterington / trumpet
Mike Hettwer / French horn
Lars Campbell / trombone
Nelly Kovalev / violin 1
Lucia Atkinson / violin 2
Hillary Schoap / viola
Dylan Rieck / cello
Chris Potter / tenor saxophone
James Francies / piano
Eric Harland / drums
Click on each photo below for a slide show.
Some of the below photos provided by Linda Lopez.


Thatcher's Coffee
104 Grand Blvd #100, Vancouver, WA 98661
Stopping for some coffee before the concert at one of the best coffee places in the Portland / Vancouver area.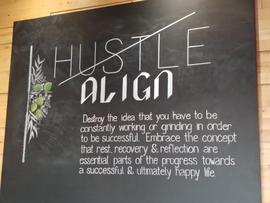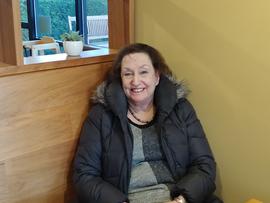 Barbara Cepinko at Thatcher's Coffee
Marthas Cafe & Bar
at Revolution Hall
Open daily 7am-8pm, 7 days (& late on all show nights)
Happy Hour Daily 4-6pm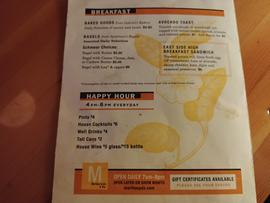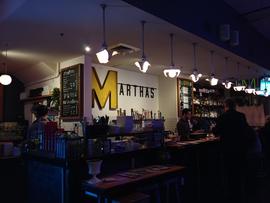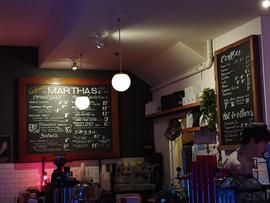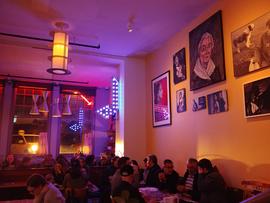 Wide Angles Jazz Concert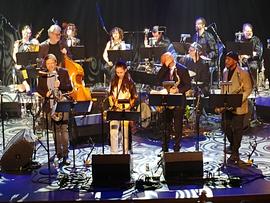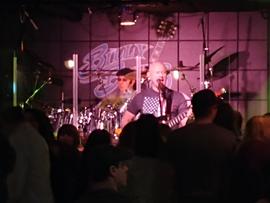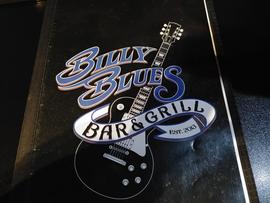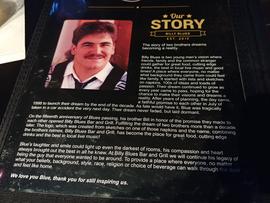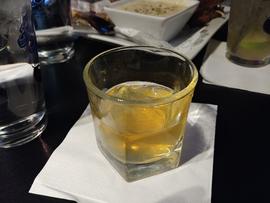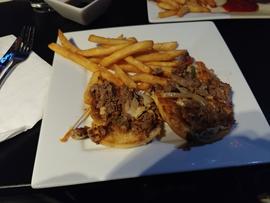 Click on each photo above for a slide show.

<<<PREVIOUS PAGE &nbsp &nbsp NEXT PAGE>>>